CAEHR | Use Cases
Optimal care for patients with cardiovascular diseases can only be achieved by taking into account all care sectors, combining all relevant medical and paramedical disciplines, and taking into account the perspective of the individual patients and their relatives. It is precisely these interfaces that are addressed in the three use cases of CAEHR. They look at relevant problems in intersectoral communication that were identified in advance by proven experts: The use case "Emergency Care" is dedicated to stroke patients and the interface between emergency and inpatient acute care. The use case "Rehabilitation" focuses on the interface between inpatient care and the rehabilitation of patients with an aortic valve replacement that was inserted using catheter technology (TAVI). The use case "Outpatient care" focuses on the interface between inpatient and outpatient care of patients with chronic heart failure and coronary heart disease.
Use Case A
Emergency Stroke Care
Within emergency care, the transport and initial assessment of stroke patients are extremely time-critical. Therefore, improved communication between the different actors in stroke care, such as ambulance services, regional hospitals and stroke centers, is highly relevant. The evaluation of the imaging and the rapid transmission of the results is a key factor in the treatment decision. This use case works towards the timely provision of data that then enables optimised stroke diagnosis and treatment. The availability of data is a prerequisite for the development of clinical decision support.
Use Case B

Rehabilitation after heart surgery
An early admission to outpatient or inpatient rehabilitation is considered beneficial by patients and health economists. This requires close interprofessional coordination involving doctors, nurses and therapists between the rehabilitation facility and the hospital, the only way to regularly evaluate the progress of the patient's health and to react to possible complications at an early stage. The medical and nursing documentation can be used for early detection of deterioration due to possible non-compliance on the part of the patient and can be used to customize the rehabilitation program in order to increase compliance. A complete transfer of information and early (digital) communication between the actors is a decisive factor for this.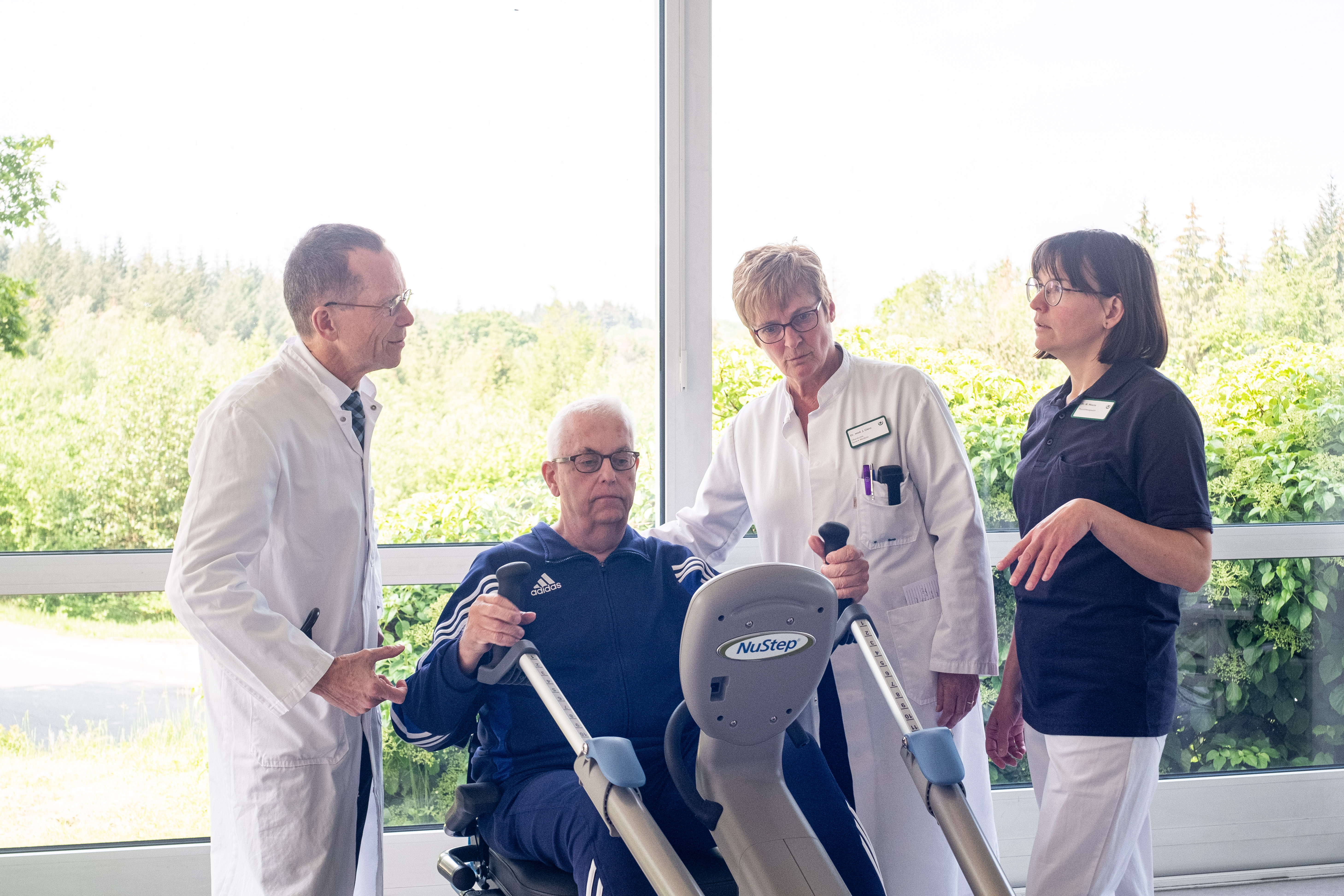 Use Case C

Outpatient care for coronary heart disease
In order to reduce the risk of secondary cardiovascular events, close cooperation between inpatient and outpatient care is of particular importance. Patients with coronary heart disease (CHD) or heart failure (HF) are particularly affected due to the progressive chronification of these diseases. Direct digital communication between healthcare actors promotes a coordinated treatment strategy and enables early therapeutic interventions to avoid emergency admissions. Comprehensive health information, including medical documentation as well as patient-reported outcomes and information from wearables, can be used to monitor disease progression and support individualized treatment management.