About the Project
Imaging procedures play a decisive role in patient care and research in today's medicine. However, only the data of specific methods (e.g., MRI, CT, ultrasound) or clinical domains (e.g. radiology, cardiology) are stored in central DICOM-PACS (Digital Imaging and Communications in Medicine, Picture Archiving and Communication System).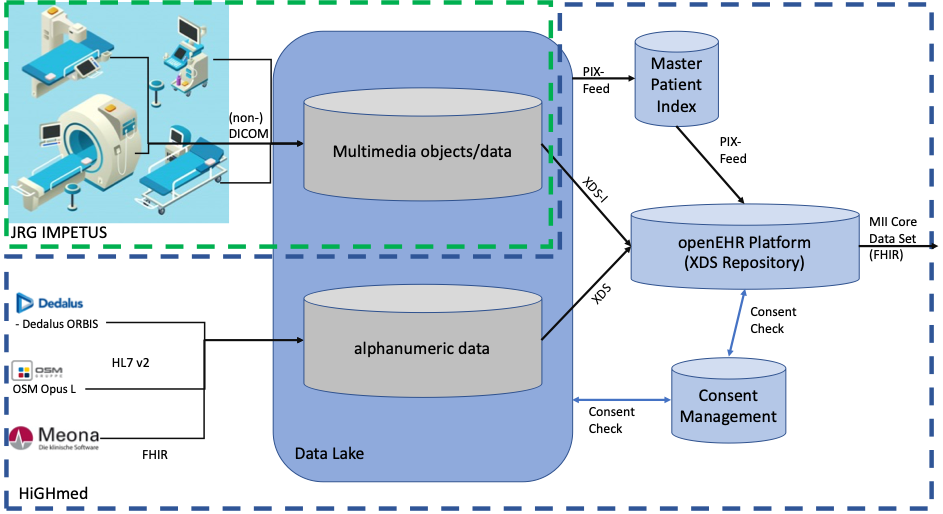 Illustration: MeDIC platform of the UKSH with integration of multimedia objects
Most of the data are either not stored in an IT system or are only available in departmental and specialised systems and are often in non-DICOM formats. In addition, there are other multimedia objects such as signal data (e.g. ECG, EEG) or audio files (e.g. ENT, neurology) and multimedia findings that contain both images and text parts.
The focus of the junior research group (IMPETUS), which is funded by the BMBF, is on medical multimedia data and their integration into a data integration centre (DIZ). Imaging and other multimedia data are integrated into the medical DIZ (MeDIC) of the University Hospital Schleswig-Holstein. These include DICOM and non-DICOM data.
"A future-oriented combination of care and research in medicine is dependent on the integration of imaging data. We want to make this contribution with IMPETUS."
Prof. Dr. Björn Schreiweis
Head of the Junior Research Group IMPETUS
Goals
The MeDIC established in the HiGHmed project will now be extended to enable the integration and use of all multimedia objects and findings, irrespective of the format in which they are available. This is the main goal of IMPETUS.
The following challenges, among others, are to be addressed:
Combination of copying and referencing approaches to reduce the volume of the dataset
connection of specialised IT systems and individual medical devices
optimization of data findability, capture and store descriptive information (e.g., sidecar files) for non-DICOM objects
integration of additional tagging (e.g., for finding types or image characteristics) to both DICOM and non-DICOM objects
storage and bundling of multimedia datasets in study contexts
introduction of pattern recognition methods (content-based image retrieval) to enhance search functionality
introduction of multimodal viewing solution for DICOM and non-DICOM objects
use of international interoperability standards to solve different elements and process steps
Head of the Junior Research Group
IMPETUS
Prof. Dr. Björn Schreiweis
Institute for Medical Informatics and Statistics | Kiel University | University Hospital Schleswig-Holstein
Members of the Junior Research Group
IMPETUS
Ka Yung Cheng
Research Associate | Institute for Medical Informatics and Statistics | Kiel University | University Hospital Schleswig-Holstein
Michael Anywar
Research Associate | Institute for Medical Informatics and Statistics | Kiel University | University Hospital Schleswig-Holstein
Tobias Hillmer
Research Associate | Institute for Medical Informatics and Statistics | Kiel University | University Hospital Schleswig-Holstein
Johnson Bankole
Research Associate | Institute for Medical Informatics and Statistics | Kiel University | University Hospital Schleswig-Holstein